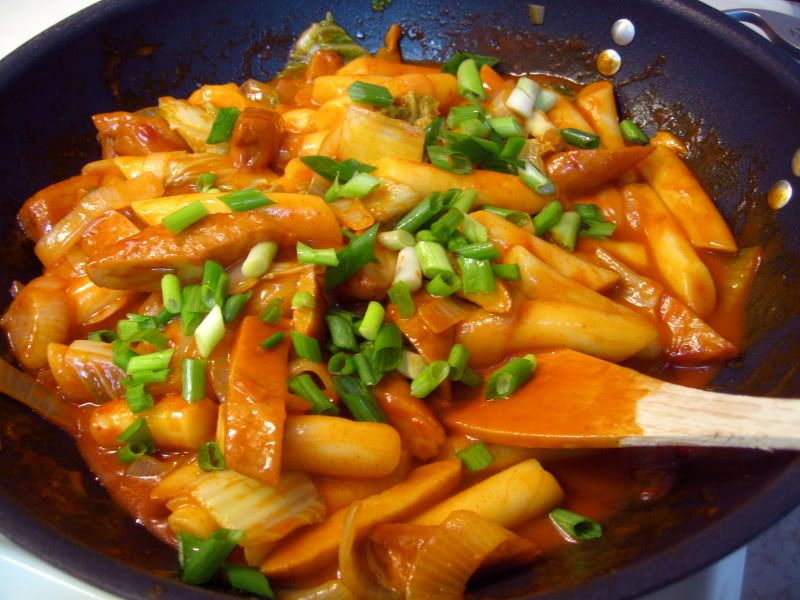 every korean person knows what ddukbokki is. it's traditionally a snack food served in little street carts in korea, perfect with some soju (so i hear) on a cold winter night. spicy, satisfying, and easy to make! jeff's mom asked me to make some one day, and i had to call my mom to see how she does it. after doing some research online, it seems there are about a thousand different ways people make this dish. here's how i did it.
i've always seen it made with the long kind of rice cakes (dduk) but i guess the ovalettes would work too.
now, the ingredients are really up to you, but basically you should have some veggies and some kinda protein. fish cakes are most common, but i've also had them with spam or hot dog franks instead of or in addition to them as well. i used onions and cabbage as my veggies, but i'd had ddukbokki with carrots too. some people add dumplings, ramen noodles, even cheese. it really is what you want it to be, but since jeff's mom was expecting the quintessential version, i tried to keep things simple.
like i said, there are many different ways that people prepare this, but i think the way i did it is one of the easiest and most foolproof methods. first, start sauteeing your veggies in a wok or sauce pan with a little oil (either canola, veggie, or sesame, but NOT olive! kinda obvious, but you never know...). when they are tender, add in a bit of water (just enough to submerge about 2/3 of the veggies, you don't want to make a soup) and scoop in maybe 2 or 3 tablespoons of gochujang (korean hot pepper paste). you can add more or less depending on how spicy you like it.
mm, mm, mmm. spicy red chili paste. so simple, so versatile!
bring all that to a boil, and then add in the fish cakes (or spam or hot dogs) along with the dduk. keep simmering until the dduk is soft and the sauce thickens up. the starch from the dduk and the evaporation of the water will both thicken things up nicely. if things get too dry, you can always add more water. it's generally easier to thin things out than it is to thicken things up after you've added the dduk. when the dduk is soft (not TOO soft, it'll literally melt into a sticky goo if you cook it too long) and the sauce is a good thickness, you're done! sprinkle some scallions on top and add some toasted sesame seeds for extra flavor.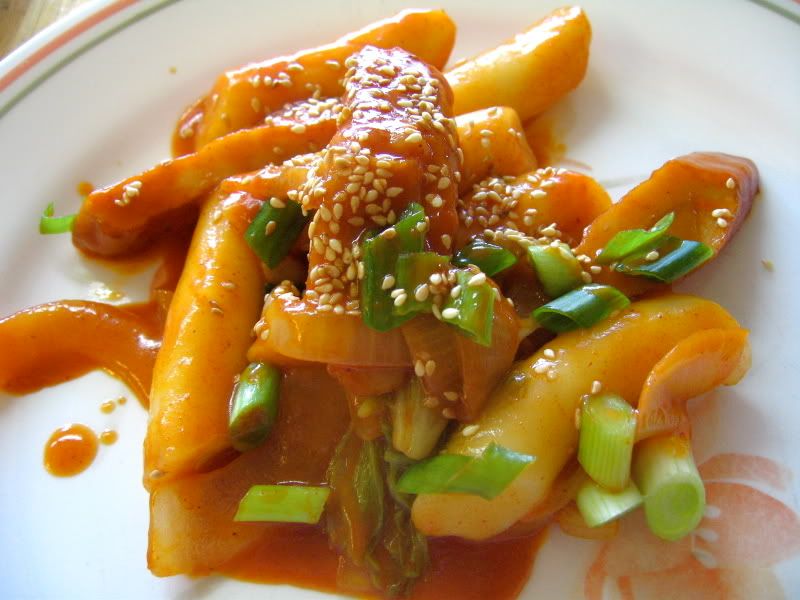 this was my first time making it, but damn it turned out tasty! just like at the pojangmachas.